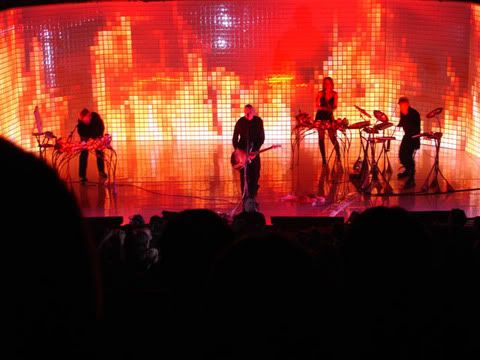 it was so humid inside the Forum. it's like an old rundown Cinema that should be bulldozed. a memorable night. a fast tube ride home. i'll write a proper review, after sleep.
the opening band Gliss were okay. D+ maybe. very early 90s shoegaze, a-la Ride and Slowdive but without any invention whatsoever. they kept switching instruments, for the novelty of it. the guys voice sounded like he was sexually gratifying himself, hand in pocket. the 45min set dragged on a bit and the songs all folded into one another.
Billy came on about 9:15, wearing gigantic storm trooper boots, a coat and his cap. all throughout the show he kept saluting the crowd, he did a robotic mime impression, talked about going to Ascot [the royal horse racing thing here in England] and how he met Fergie in a lift and commented on her magnificant weight-loss. the crowd laughed at this. maybe he thought we actually liked our own royal family? it was a great asmosphere.
onto the actual music, setlist..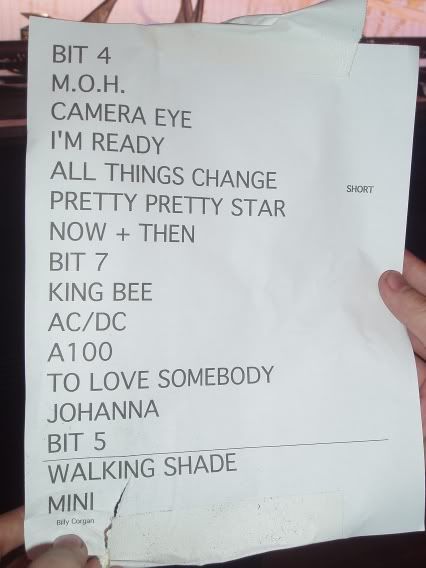 hightlights for me:
the "bits 4, 5 & 7" are mostly instrumental filler with a couple of lyrics, but very beautiful. reminded me of Eno.
-"mina loy [moh]" was a great opener. it's my favourite on the whole album.
-"thecameraeye" sounds like it could easily have been on depeche mode's exciter.
-"now and then" is reminiscent of something off of Adore. with a slowhand solo.
-"i'm a king bee" is an insane hardrock rendition of a traditional blues song. corgan really screeches out "gone gone gawwwwwwwwwwn"
-"to love somebody" the bee gees cover, i saw robert smith standing to the side of the stage with his wife during this one and billy pointed to him. it's a pity he didn't join him on stage for the duet but dreams don't come true, do they.
-"johanna" another cover, stooges [iggy pop's band]. i love the slow menancing beat and guitar. billy's voice carried it well. again it reminded me of depeche mode, and their own cover of the stooges song "dirt"
encore: "walking shade/mini" wonderful end. the single and this hidden gem "mini", which deserves to be on the album. i hope it's a b-side.